Jonathan B's 2008 Impreza Narrowbody WRX
Member #22574 :: Car Show Entry (Best Impreza 08-11 & WRX/STI 08-14)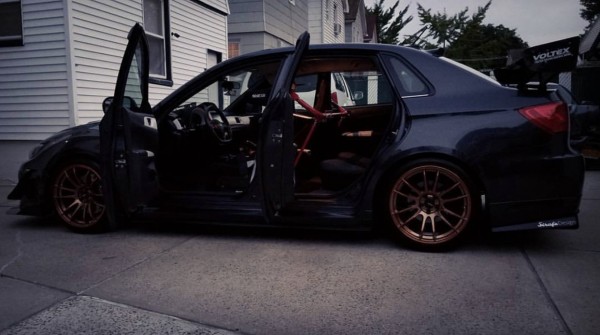 Car Description:
Not your typical '08 narrowbody
STI Carbon fiber front fenders/hood/trunk by seibon; Voltex V-mount wing for Evo 9 modified by me to work on this M/Y chassis; lots of attention to detail with engine bay. Moved ABS Pump to interior under passenger side dashboard to run a 4" inlet off the low sitting Borg Warner S366 rotated with a Perrin up-pipe. Custom dp; Engine bay painted satin black; motor and heads fully built by me, flipped JDM Spec-C intake manifold; Prodrive STI drivetrain ('02). Interior set up for auto-x with Sparco seats and safety gear. Every part of this car has been touched! I hope you like it :)
Car made 587whp on a mustang dyno 3 years ago. New build for this car show should be a bit more!
Jonathan's Social Media Info:
-
http://www.facebook.com/jbinda420
-
http://www.instagram.com/Johnnybegood_420
« Browse More Enthusiasts