Travis M's 2013 Impreza WRX
Member #1494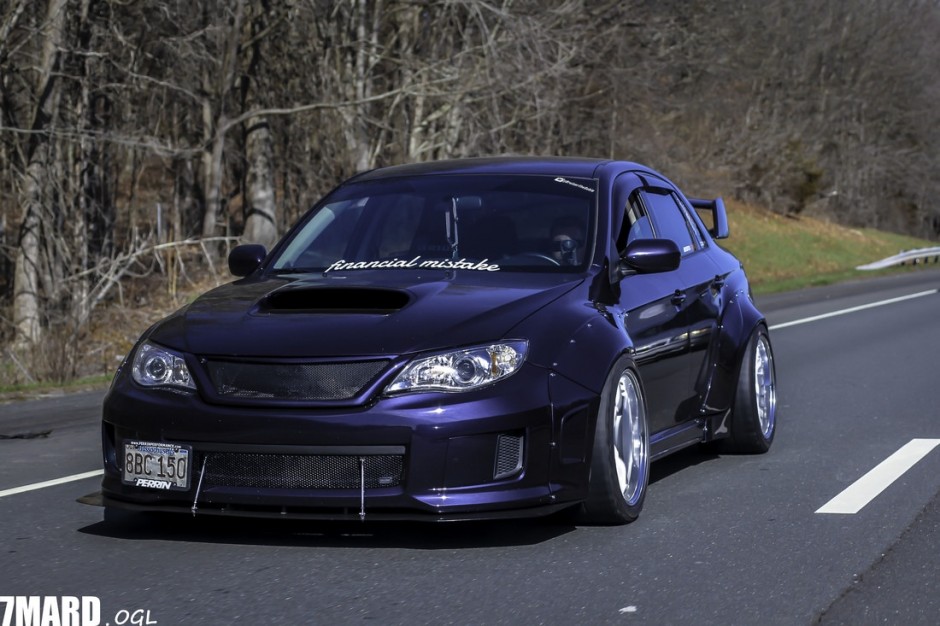 Car Description:
mods:
RalliSpec Street Spec Pro Shortblock 8.2:1
Custom spec'd Blouch 440XT turbo
Invidia catless downpipe
Invidia Q300 cat back titanium tip exhaust
Cobb short ram intake in air box
Killer B Motorsport 4-1 Holy Header
Perrin turbo inlet hose
Process West Verticooler
ID1000 injectors
DW65c fuel pump
Cobb Boost controller
GrimmSpeed lightweight pulley
Killer B Motorsport Ultimate Oil Pickup
Killer B Motorsport Oil Baffle Windage Tray
Killer B Motorsport Aluminum Oil Pan
Turbosmart BPV
PST CF drive shaft
Audio:
Alpine IVE-W530 head unit
Memphis 4 channel amp
Alpine type R door speakers (4)
Custom speaker rings
Alpine PDX mono amp
Hertz ES 250.5 10" subwoofer (2)
Custom down firing sub box
Exterior:
Vollkemeon widebody kit done by Cove Customs
Work T7Rwheels 11.5x18 -15
Work RS-R lug nuts and center caps
Aeroflow V1 front splitter with rods
GrillCraft front lower grill
GrillCraft hood scoop grill
HT Auto grill
Bride Low Max racing seats on Bride rails
Crawford Air Oil Separator
6 speed swap
ISC coilovers
I bought this Subaru with only five (5) miles on it and never thought it would ever turn out to look like this and do so much work to it.
There truly is lots of blood, sweat, and tears into this build. I have blown the motor and transmission and can proudly say, except for putting in the rallispec block and the widebody kit, I've done all the maintenance and work.
This has been a great learning process along the way and have had some great support from friends and fellow Subie enthusiasts!
IG @BruiserTheSubie
Travis's Social Media Info:
-
http://www.facebook.com/travismard
-
http://www.instagram.com/BruiserTheSubie
Facebook Groups: