John S's 2015 Impreza WRX STI Limited
Member #5441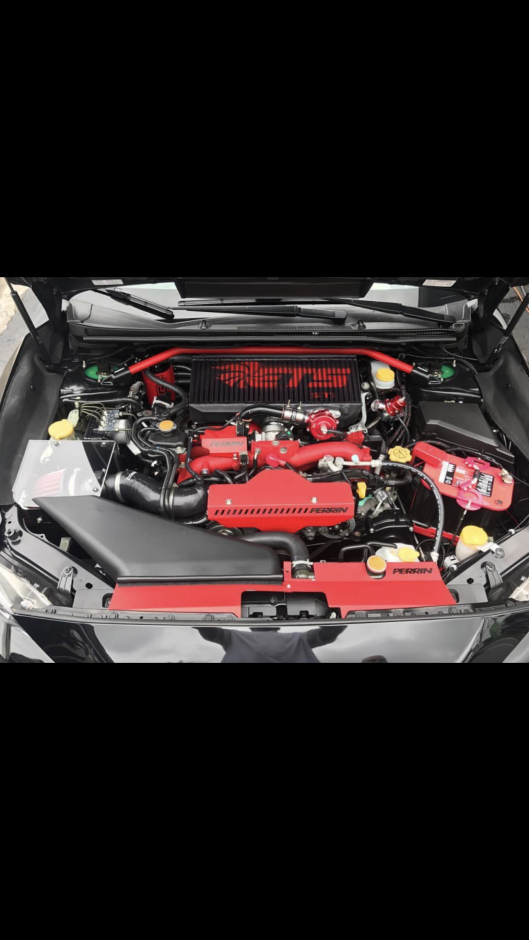 Car Description:
Part list :
HKS- bellmouth down pipe, HI-power cat back, HKS EL headers(titanium wrapped)
ETS- top mount anodized black w/ red lettering.
Grimmspeed-ebcs, up-pipe, waste gate bracket, all grimmspeed gaskets, intercooler hoses and y pipe.
Cobb-v3 access port, flex fuel kit, sf intake w/box(custom clear plexi glass cover to I make filter visible).shifter bushings, turbo heat shield
AEM- 9" hi-flow filter
Aem-boost, oils pressure and AFR x series gauges
Dw300c fuel pump
Id1300cc fuel injectors
IAG- fuel rails, comp series AOS, secondary air pump delete, TGV deletes
Airmotive- fuel regulator,
Customs fuel lines with vibrant fittings
Perrin- pitch stop, trans mount, motor mount, brake MC brace, turbo inlet, radiator cover, BC cover, alt cover, plate delete. Wing stiffeners
Verus- gas peddle spacer
Mooresport- racing top hat front and rear
Whitline- Max G coil overs, front sway bar 26mm sway bar24mm, positive shift bushings, roll to center adjustments
Katy boy- front and rear end links, rear diff bushings. Short throw shifter
DSS- carbon fiber drive shaft.
Tial- 44mm ewg, 50mm RBPV w/custom BPV piping
Stop tech- braided brake lines
Hawk- 5.0 pads
Exedy- stage 4 heavy duty twin disc clutch
Voodoo13- rear lower control arms
Cusco- H brace, rear strut X brace
Raceng- slammer shift knob
Killerbee- oil pan, pickup tube, baffle
OLM- halo fog lights, high/low beam 6k led
Diode dynamic-c light, 70mm halo's
Custom head lights.
Rally armor mud flaps
Optima battery
Rays- gramlight 57cr gloss black
Bridgestone- re71r
All badges on the out side replaced
Byson R lip kit MPX lip CS rest(color matched)
Subispeed version 1 vortex gen, v2 f1 style fog light, rear defused version 1, TR tail lights, tail as turn
Shift solution- interior trim pieces CM
Passport Max 360 radar detector
Viper smart start alarm and remote start
NLM built
VTR tuned
John 's Social Media Info:
-
http://www.facebook.com/John soulant
-
http://www.instagram.com/L2anger06