Troy F's 1999 Impreza WRX STI RSTi
Member #5469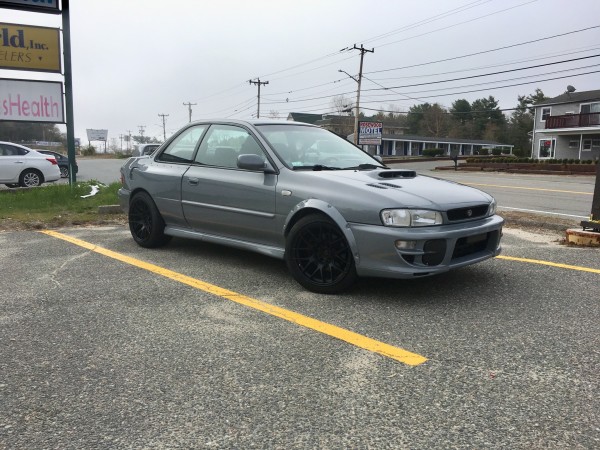 Car Description:
2.5 RS Coupe, swapped with a fully built EJ20K JDM STi engine and JDM STi 5 speed. Protuned with an Apexi Power FC Stand-alone ECU. The entire car has been gone through and restored. 45mm widebody in the rear, flared in the front, painted Toyota Cement Gray (1H5).
Has WRX brakes, forged pistons, forged rods, ceramic race bearings, ej207 crankshaft, killer b oil pickup, every line/gasket replaced. Custom exhaust with Borla muffler. JDM STi pink suspension. Cusco rear strut tower brace. Group N body bushings throughout. Upgraded "600hp" capable clutch. XXR 530's wheels (being changed at end of summer).
The car is a never ending project, this is 6 years into it, still many many changes to be made. The entire front end is going to be converted to carbon fiber, along with the trunk/wing and eventually even the roof and doors. Haven't gotten to the interior yet, the outside needed extensive rust repairs to be saved so it has been the focus the past couple years. Turbo is stock for now, but Blousch 20g coming soon with another tune/injectors/intercooler, aiming for a balanced 320-350awhp. Car current makes 244awhp @ 13 psi, nothing is stressed. Because of the extensive repairs, and things being replaced multiple times the car somehow has over $30k invested. I'm also forgetting a laundry list of parts..
Troy's Social Media Info:
-
http://www.facebook.com/fyctroy
-
http://www.instagram.com/fyctroy
« Browse More Enthusiasts