Michael B's 2015 Impreza WRX Limited
Member #20364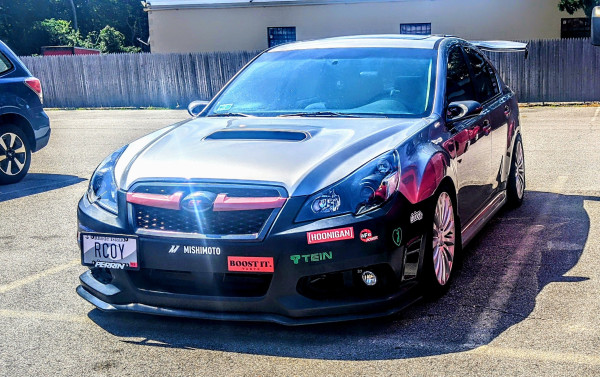 Car Description:
This is Barbara, or Babs for short.
Nothing special, just wanted to share my little Outrun inspired batmobile.
She was rescued two years ago, at a mere 27k but with all four rotors pitted or glazed, pads long spent, two calipers seized, holes in every corner of every fender, dents galore, a cracked-in-two spoiler, scraaaped up rims, an unspeakable interior, and finally: metal flakes in the engine oil...
Today: engine wear is back to normal patterns, brakes are all brand new (including calipers), and her body is completely worked over. With a full coat of a deeper, darker blue on top hours of painstaking body work, she's a beautiful monster all over again.
Honeycomb etched Demon Eyes with Hex Halo Lights, Morimoto projectors and Diode Dynamics C Lights, hand made Bat plate, Vinyls and Graphics to show that synthwave, cyberpunk love (amongst some other corny additions I couldn't resist)
Also fitted with custom cut ground effects, AEM Intake, Nameless Performance bypass valve, and full Nameless Performance exhaust system, from J-Pipe to Neochrome Tips... and maybe a tune or two ;)
She may not be the fastest, cleanest, or freshest. But she's true to form:
high tech, low life FUN
Michael's Social Media Info:
-
http://www.facebook.com/mbuttrick
« Browse More Enthusiasts